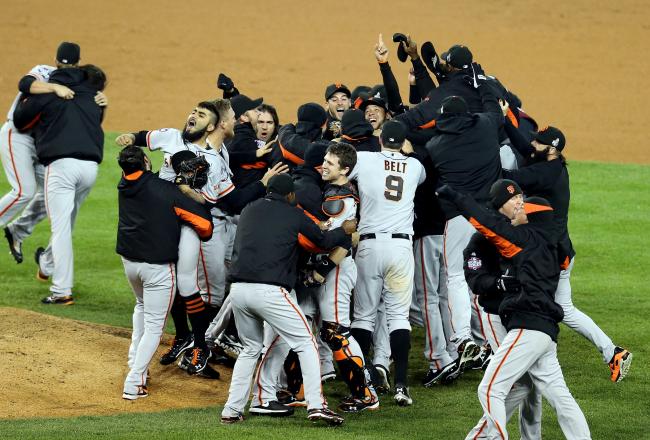 As a devout San Francisco Giants fan, I've been giddy over the last 3 years reveling in the success and more so the incredible personalities, characters and adversity beating drive of a team that won the WS in 2010 and now in 2012.
I'm a big proponent of finding lessons in different walks of life (e.g. my blog post 10 Marketing Lessons from Shit My Dad Says Tweets ad If Seinfeld evaluated MDM Vendors), so when it came down to delving into the nuggets that could be gleaned from the 2012 San Francisco Giants, I was licking my chops. As it turns out, the remarkable run of the Giants has already spawned a plethora of well written articles. Some of my favorites include:
So instead I'm turning my analysis to the differences and similarities between the 2010 vs. 2012 teams as I'm curious to examine the "formula" that the Giants are utilizing to such success. Here are a few observations:
2010 Giants
2011 Giants
2012 Giants
1. Finding missing pieces to complement the core.
Picked up Javier Lopez, Ramon Ramirez, Mike Fontenot and importantly Cody Ross
Picked up Carlos Beltran from the Mets
Picked up Hunter Pence and "Blockbuster" Marco Scutaro
While others "gave up" on role type players like Cody Ross and Marco Scutaro. The Giants found gems and both turned into NLCS MVPs. Fun fact: If Ross had not joined the Red Sox in 2012, Scutaro would not have been sent to the Rockies! Where the Giants picked him up.

So what happened in 2011? Apart from missing Buster Posey, many pointed to Carlos being injured, but also that he didn't "fit chemistry wise".

2. Focus on Pitching
Giants pitching shut down the powerful Rangers hitters. With Lincecum, Cain and Bumgardner all home grown
Giants pitching wasn't as good as in 2012, Zito hit rock bottom and Jonathan Sanchez flamed out
Giants pitching shut own the powerful Detroit hitters. Again Lincecum, Cain, Bumgardner and now Zito & Vogelsong contributing
It took several years of drafting great pitching and watching young stud hitters go to other teams before 2010 it finally clicked. Management's belief and philosophy that good pitching beats good hitting proves true in both 2010 and 2012.
3. Chemistry and Leadership
2010 everyone pulled for each other. The Misfits were ignited by Edgar Renteria who made his impassioned speech that drove the turn around
With Posey out, there wasn't a passionate leader. Carlos Beltran didn't contribute as a leader or blend in well.
2012 "the reverend" Hunter Pence stepped in with "the speech" that spurred historical comebacks
In 2011, the loss of Posey was undeniably the biggest blow. Both physically and from a leadership standpoint. Aubrey Huff lost his desire and Pat Burrell retired. Carlos Beltran, though adequate from a batting perspective, was not a fit "chemistry wise" and did not return in 2012
4. Knowing When To Say Goodbye
2010 The arrival of Buster meant the departure of Bengie Molina. Bengie still had game left, and he helped the Rangers meet the Giants in the WS.
2011 management retained Aubry Huff at an expensive price. But did let go of Juan Uribe to the Dodgers
2012 They traded the very popular Andres Torres and Ramon Ramirez to the Mets for Angel Pagan. George Kontos came for Chris Stewart. And Nate Scherholtz went to the Phillies for Hunter Pence
It's hard to say, but baseball is a business and sentiment is trumped by facts and what's best for the team. 2010 and 2012, the Giants made all the right and somewhat in the eyes of fans, hard moves.
So what have I learned from comparing the 2010, 2012 and 2011 Giants that I can relate to and apply professionally?
1. Every one pulling on the same rope and the belief in team cannot be understated in any walk of life. The sum of the parts exceed the whole.
2. Consistency and belief in a master plan. Changing directions, following the hot lead, topic could be considered "agile", but building a long term winner with a repeatable formula requires dedication and commitment.
3. Leadership and vision is an absolute must. Chemistry among team includes joint belief in leadership. Leadership comes from passion, experience and sacrifice.
4. When the time comes, you need to let people go. Whether they no longer perform as you expected, or their skills no longer match what you are trying to achieve. As my CEO once said to me, as a Director you may still care more about your people than the company, as an executive and VP you have to care about the company first. None of the people will survive if the company does not.
Go Giants 2013!